VowelChartProject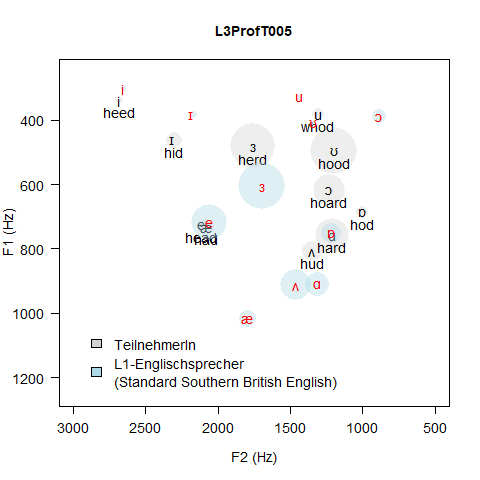 Researcher: Dr. Martin Schweinberger
The VowelChartProject assesses target language proximity in vowel production by language learners, i.e. it measures how "native-like" learners produce vowels. Students that take part in the project receive a personal vowel chart (cf. Figure 1) and a short description of the divergences from native-like vowel production.
The project is currently supervised by Dr. Martin Schweinberger and it collaborates with language teaching courses (Sprachpraxis: Nina Stedman) at the IAA of Universität Hamburg. The VowelChartProject employs a staff of student assistants who help with the recordings, the annotation, and organization of the project.
Language learners fill out an online questionnaire and are recorded in sound absorbing recording booths. The recordings are processed and analyzed using the audio analysis software Praat and programming environment R.
Initially, the VowelChartProject focused on learners of English and has been extended to learners of Spanish, Russian, and German. First results on which factors enhance native-like vowel production have been presented at linguistic conferences.
The VowelChartProject is financed by the Lehrlabor Lehrerprofessionalisierung (L3Prof) (Project leader: Prof. Dr. Eva Arnold, Project co-ordinator: Dr. Britta Schmidt) which is organized by the Zentrum für Lehrerbildung Hamburg (ZLH) and funded by the Bundesministerium für Bildung und Forschung (BMBF).
Cooperation: Nina Stedman
Duration: 2016 - 2019
Funder: Bundesministerium für Bildung und Forschung (BMBF)
---