The Elaine-Steinmann-Memorial-Prize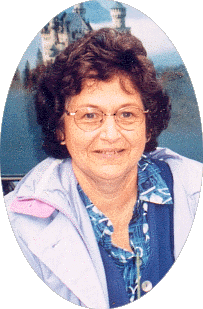 The Elaine Steinmann Memorial Prize was established in 1999 to commemorate Dr. Steinmann, a former Lecturer for English Language and Culture at the University of Hamburg. She died in March 1999 at the age of 56 after a long and courageous struggle against cancer. Even today, we miss her teaching skills, her commitment to her students, the contributions she made to the English Group, and most of all her great wit, her edgy sense of humor and her ability to summarize what should have been obvious to everybody. Elaine was an extraordinarily smart, articulate and unique individual. 
Since Elaine loved good writing, and was exceptionally well-read in American as well as British literature, the most appropriate way to honor her memory was to establish a prize in recognition of excellent student writing.
A native of Boston, she grew up on Long Island, graduated from Tufts University in Boston and went on to the University of Michigan, Ann Arbor, for her M.A. and Ph.D. As a graduate student of English, she received a National Defence Grant and made Phi Beta Kappa, a honorary society. While studying in Michigan, she met her future husband Harald, and moved to Germany with him in 1972. In Trier, she finished her Ph.D. on political novels before moving on to Bitburg. There, she taught English at a local high school for several years before coming to Hamburg in the fall of 1977. A year and a half later, she began her career at the University of Hamburg where she specialized in writing courses, teaching advanced essay writing and interpretation skills, courses on aspects of contemporary American culture as well as courses on Shakespeare and poetry. In addition to her classes, which were noted for their liveliness as well as high intellectual standards, she published two anthologies on American culture. Her illness forced her to retire in 1998.
Despite living in Germany for the last 25 years of her life, Elaine remained an American at heart, travelling to the US frequently, staying in touch with current affairs there and raising her two children, Arthur and Dorothy, bilingually as well as biculturally. Her expatriate status served, if anything, to sharpen her caustic wit and her powers of perception, both in regard to Germany and the United States. As her friends and colleagues, we have had to make do without her opinions, her advice and her jokes. We miss them still.
Former Prize Winners
Texts which won a 1st, 2nd or 3rd prize:
Albrecht, Tim (PDF)
Bass, Zöe (PDF)
Becher, Victor (PDF)
Bieber, Sascha (PDF)
Borutta, Nicole (PDF)
Braun, Julia (PDF)
Diercks, Inga (PDF)
Eberhardt, Claudia (PDF)
Finke, Christina (PDF)
Gardemann, Christine (PDF)
Gilliland, Tracy (PDF)
Griem, Siv Marit (PDF)
Haberkorn, Doris (PDF)
Hermann, Marc-Philip (PDF)
Huber, Judith (PDF)
Jacobsen, Peer (PDF)
Jenssen, Christine (PDF)
Jochemczyk, Markus (PDF)
Jung, Judith (PDF)
Kroll, Katrin (PDF)
Langhans, Simon (PDF)
Lieberich, Martin (PDF)
Martens, Jan (PDF)
Martens, Niclas (PDF)
Marquardt, Vanessa (PDF)
Mewe, Susanne (PDF)
Möller, Verena (PDF)
Ohlsen, Malte (PDF)
Rhein, Sven (PDF)
Scavone, Fabio (PDF)
Schäfer, Timo (PDF)
Scharnewski, Mona (PDF)
Skalicky, Ulrich (PDF)
Sommer, Jana (PDF)
Sondermann, Kerstin (PDF)
Voss, Jan (PDF)
Voss, Klaas (PDF)
Winckler, Reto (PDF)
Witt, Kay (PDF)
Wolna, Julia (PDF)
Zimmermann, Mareike (PDF)
---